Dec 9, 2014,
It is a matter of concern that Pakistan and China are pressing ahead with an economic corridor project, overriding India's objections. The multi-billion dollar project envisages a four-lane expressway, railway lines and a gas pipeline linking Pakistan's Gwadar port with China's Xinjiang province.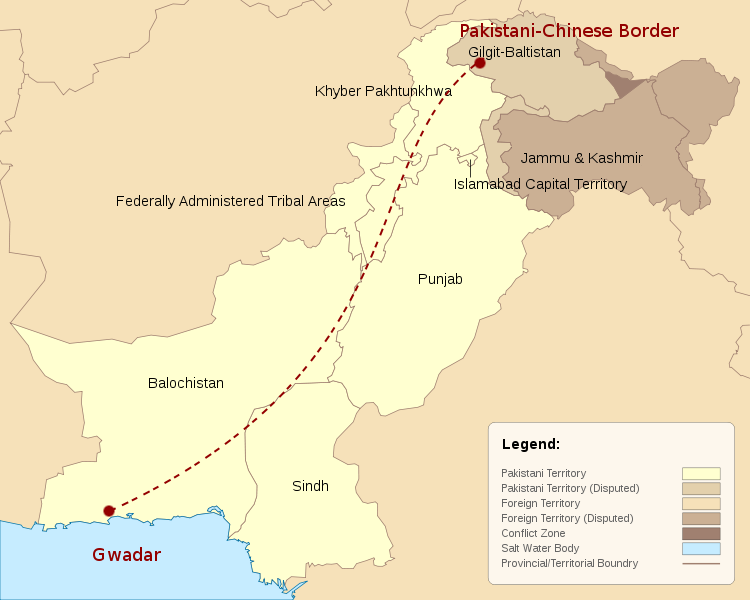 It will facilitate transport of cargo offloaded at Gwadar to China. China's economically backward western provinces are expected to benefit from the economic corridor. India doesn't have a problem with mounting Sino-Pakistan economic cooperation, especially if it contributes to quelling insurgencies and unrest in the region.

Its objections to this project lie in the fact that the corridor runs through Pakistan occupied Kashmir, territory over which India lays claim. Ever since Beijing and Islamabad announced plans for an economic corridor, Delhi voiced its opposition to the project.

However, China and Pakistan have treated Delhi's concerns with utter disdain by going ahead to lay the foundation for the expressway project. Indeed, this project is only the latest in a series of Sino-Pakistan initiatives in territory in Kashmir that is rightfully India's. Pakistan has ceded around 5,180 sq km of land in PoK to China. Besides the Karakoram Highway, China is said to have invested in several 'development' projects in Gilgit-Baltistan.

China has laid bare yet again its double standards. It objects vociferously to countries cooperating with South China Sea littorals in oil exploration and other projects on the ground that these are disputed waters. It has kicked up a fuss over Japan working with India to improve infrastructure in Arunachal Pradesh. It labels such initiatives as provocative.

Besides benefiting their respective economies, the Pakistan-China economic corridor will transform their trade with Central Asia, a region that India has been eyeing for some time.

What is India's plan to counter inroads Pakistan and China are making into this region? India, Iran and Afghanistan have been talking about developing Chabahar port as trade and trans-shipment hub to boost trade with Central Asia. Almost 12 years after the idea was mooted, it is still to take shape with India the main laggard in the project.

Opposing the Pakistan-China project cannot be India's only response to it. It must counter it by implementing the Chabahar plan to expand India's outreach into Central Asia and beyond. China has given itself two years to complete the economic corridor project. Its track record indicates that it will meet the deadline. Can India match China's energy in executing infrastructure projects abroad?